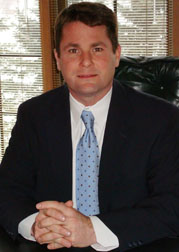 Paul Hulsey, Chief Executive Officer
Paul has a BBA in marketing from Western Michigan University and an MBA in International Business from the University of Phoenix. Beginning in October of 1993 he started a 14-year career with Chrysler Corporation working in the sales and marketing division. During that time he held multiple field positions consulting with Chrysler Corporation dealers in the areas of inventory management, process optimization (QS9000), sales and marketing strategy, and dealer profitability. By the end of his career, Paul had taken command of Chrysler's largest sales territories in both new car sales and Mopar parts for North America.
In 2007, Paul joined Innovative Media in Madison Heights, Michigan, a tier 1 supplier to the automotive industry supplying graphic branding to Chrysler and Penske Automotive Group. Paul worked as the brand manager for the Great Lakes Region and Canada. At Innovative Media, Paul learned the importance of brand management and how it can build an emotional connection between the customer and the products or services they purchase.
Paul joined Pure Eco Environmental Solutions in 2008 as CEO and VP of Sales and Marketing, and has a goal of making Pure Eco the "go to" green solutions company in the Midwest, promoting innovative products and superior service.
"Making a jump from the automotive industry to the renewable energy field made perfect sense for me as I enjoy working and playing out doors. Any given weekend you can expect to find me mountain biking, snowboarding, skiing or windsurfing. I have a passion for competitive sailing, which has taught me how important team work is in achieving your goals. Having the right mix of people that share the same passion and goals is the key to success. I think that we have found that right mix here at Pure Eco. I am very proud to work for a company that has a goal of reducing carbon emissions and passing on a cleaner environment to future generations."